With the POS application;
With the virtual pos setup, you can receive payments through your website installed on the intranet and track the payments you receive.
At the same time, you can set up your physical POS and track your payments.
Login screen
POS Accounts: For your defined POS accounts; bank name, last transaction date, number of accounts defined for the bank and balance information are listed.
Branch Accounts: If the feature to define POS separately according to branches is active, the branch selection is made while defining the POS. You can list your POS accounts according to branches.
Virtual POS Transactions
Realized Transactions: Realized Virtual POS payments; It is listed with customer name, bank, transaction amount, allocation status and transaction date information.

Incomplete Transactions: Transactions that could not be paid are listed. The list includes customer name, bank name, transaction amount, error code and transaction time information.
Canceled Transactions: Canceled virtual POS transactions are listed.
Registered Cards: The data of the cards you have received payment is kept. Here, the customer name, pos name, card number/card holder and data pertaining to the realization time of the transaction are listed.
Settings
General Settings
Default Calendar Filter: You can use a default calendar filter to list virtual POS transactions.
Define POS Separately by Branches: With this feature, you can select branches while defining POS.
Create Credit/Debit Record: Allows you to create a debit/credit record over POS transactions.
Basic Components: Allows you to add records to POS payments related to the applications you have selected. For example, if the documents application is selected, you can add a document for the POS payment.
Bank Definitions: You can add the bank definitions for which you will define POS here. When you click the Add New Bank button, you can enter the bank name on the page that opens, and if there is an integration, you can enter the user name and password after choosing the infrastructure.
BIN Definitions: From the bin definitions menu, you can ensure that the payment to be made via the card defined to the bank is received from a different bank.
POS Definitions: You can make POS definitions on this screen.
From the page that opens when you click the Add New POS button;
If you have a branch structure, you must select the branch and enter the bank selection, POS name, POS type, accounting code, currency, and if you wish, the opening balance and date.
If the POS Type is marked as Virtual POS, Virtual POS Settings will be displayed on the left menu after registration. From here, you can enter the information sent to you from the bank after selecting the Virtual POS engine, mode and reference code. You can specify the maturity differences that you will apply to the number of installments via the Installment menu.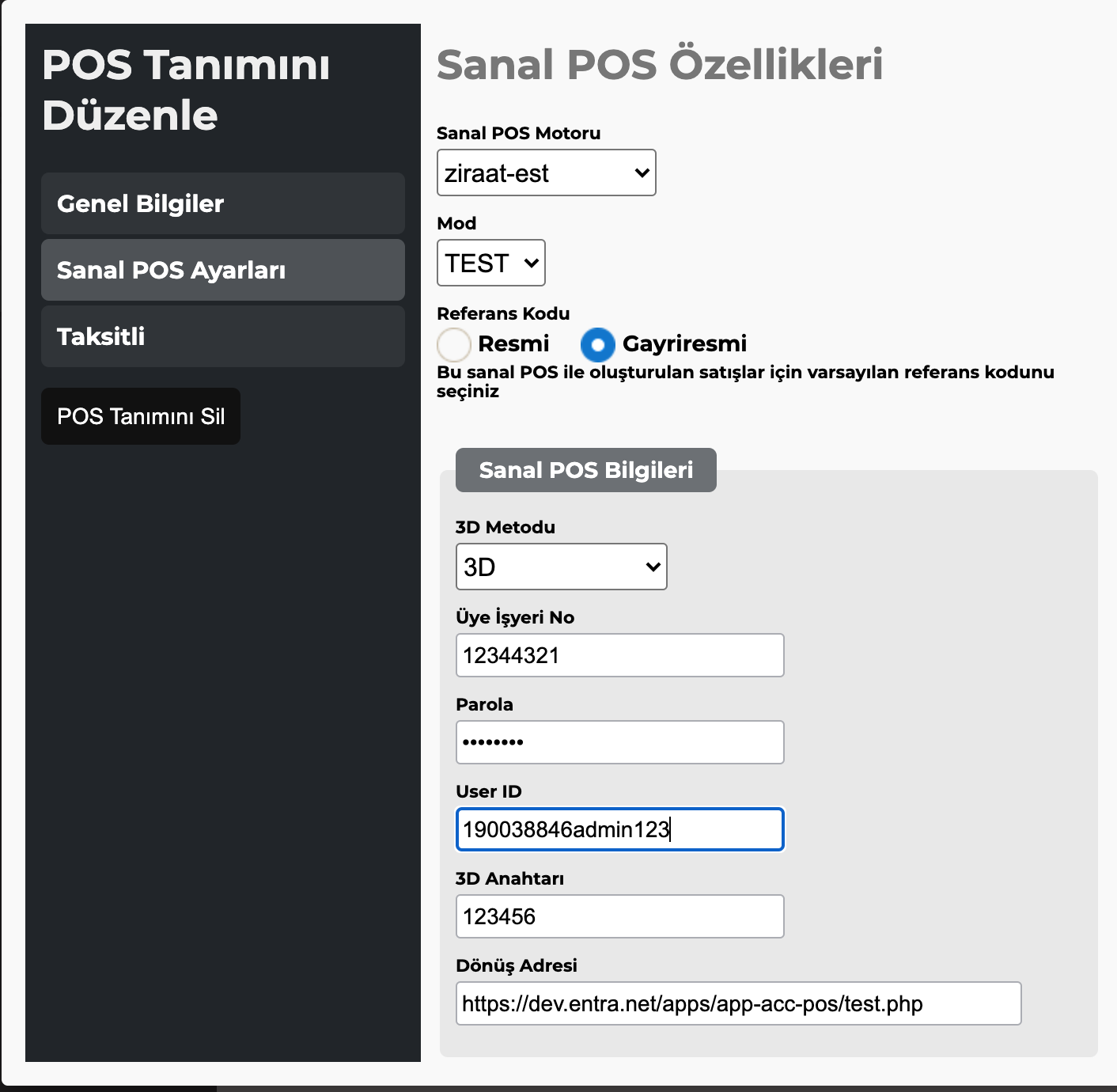 Authorized Users: Users authorized to access the application are listed. You can add/remove authorizations for users.