Products
You can view all your products. You can save as Excel from the Operations menu and download the pictures you have uploaded. You can filter by group, category, brand publication status from the filters section and sort by the date you want from the sorting section.
Add New: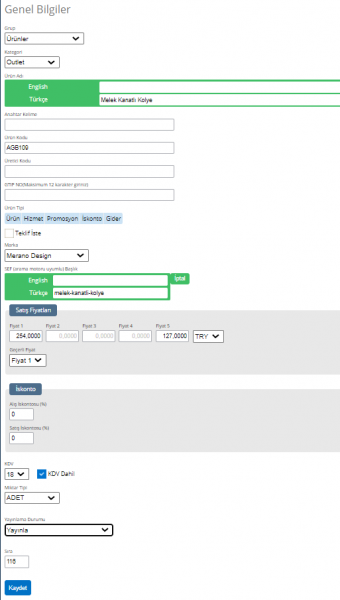 When adding a new product, you must select the Product Type. If you enter more than one price, you must choose which one is the current price.
Changes can be made to the registration information from the General Information section of the relevant task record. You can add the information you want to add from the Parameters, and create sub-products with characteristic parameters. From the Sub-Products menu, you can view all sub-products related to the product itself. You can add sales, buying and price lists. You can enter the description according to the content type you have defined from the Product Contents. You can add images related to your product from the Linked Files menu. You can choose the site where your product will be published by choosing the site where it will be published.
Group & Categories
Before you can enter your products, you need to define your groups and categories. If you are using a website, you can display your products according to these group and category structures. You can add multiple products to the relevant category from the operations menu under each category, add or delete products with Excel, or make category changes.
From this menu, you can add products, and from the filtering section, you can filter your products according to their publication status and brand.
Parameters
You can filter the products under each parameter you have created according to the variables of that parameter and view them collectively.
Interactive Transactions
In the interactive transactions menu prepared for our customers using the website, you can examine the scores given to each product and review the date-ordered comments.
Transactions
You can add, delete and update products in bulk by entering the Excel format specified in the details of the transaction. From the Other menu, you can perform product copying, external synchronization, export links, barcode Excel, regenerate thumbnails and batch barcode assignment.