With the Proforma application, you can create temporary invoices before the official invoice and follow up on the current basis.
Proforma Receipts: You can add proforma items here before the proforma is created. You can transfer the selected items to an existing proforma or create a new proforma.
Proforma: You can follow up your proforma at the specified stages.
Analyzes
Products: You can perform product analysis according to the specified date periods or the date range and proforma status with the help of the filter at the top right.





Customers: You can access the analysis of your customers according to the specified date periods or the date range and proforma status with the help of the filter at the top right.
Log Records: You can list the users who made transactions in the application according to the date and time of the transaction and go to the relevant proforma record.
Settings
General Settings
Show Product Images: It allows the images of the items you added to the proforma to be displayed in the proforma summary.
Use Payment Status: Allows you to specify the payment status of the proforma.
Show current information in customer selection: Allows the current status and balance information of the customer to be displayed when proforma customer selection is made.
Payment Plan Settings
Use Payment Plan: You can use payment plan in your proforma and specify your default payment plan type.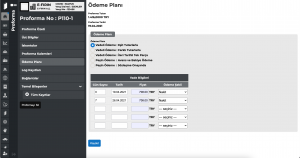 Payment Methods: You can determine the payment methods you will use.
Basic Components: You can add records through the applications you have marked in the proforma detail.
E.g; If the documents application is attached, you can add documents.
Connection Settings: You can mark the applications you want to associate with Proforma.
E.g; By adding the projects application, you can follow which project the proforma was created for.
Discount Settings: You can select the discount types you want to use from the relevant page.






Excel Templates: You can create a file from the excel template for Proforma. You have to create a new excel template for this.
You can get an overview of the tags you will use from the Template Guide section and benefit from the sample template.
After creating the template suitable for your company, you should add the new template name and upload the excel file you created. You can create multiple templates and specify your default template selection.
Automatic Numbering: You can benefit from the automatic numbering feature for the proforma you have prepared.
You can have an automatic number assigned for each proforma according to the prefix you specify, the number that will automatically increase, and if you wish, the suffix.
Authorized Users: Users authorized to access the application are listed. You can add/remove authorizations for users.