Settings
General Settings:
Multi-Language Support Feature: If you want to use more than one language on your website, you can chick this option and choose the languages that appear below. You can select which language your website is set to from the Default language section.
Sort the Application by Companies Feature: If you have more than one company in your organization, when you enter the Vehicle Rental application, it allows you to choose which one you want to continue. When you check the Allocate records to branches box, the processes that appear in the rental processes menu also cause the relevant branches to be displayed. If the feature will not be used, which company will come by default should be selected.
Contract Texts: Contract texts are prepared in a dynamic structure to be used later in the contract. Labels can be used when adding agreements from the Add New Agreement Text section at the top of the page.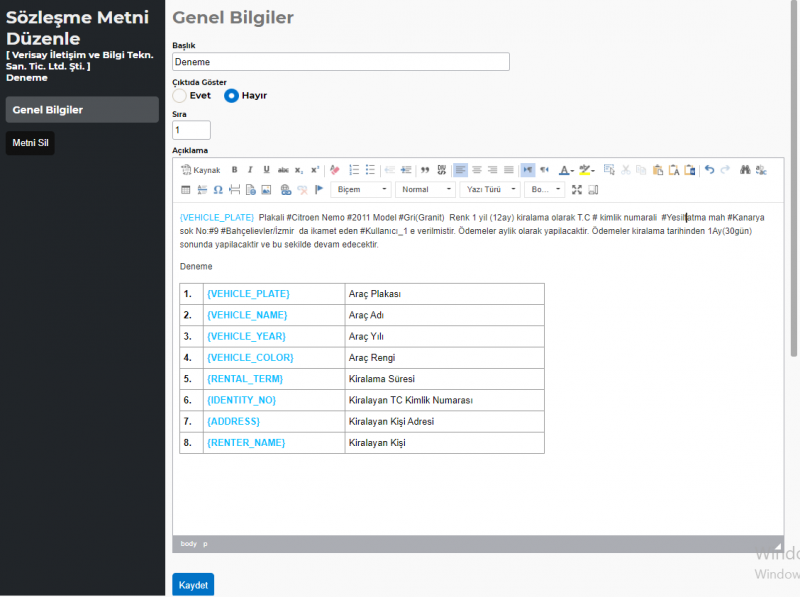 Risk Management Definitions:
Statuses: You can add the statuses you want to specify about your customer.
E.g; You can add a Payment Problem and indicate that the customer has a payment problem.
Debt Types: You can add your customer's debt value.
E.g; If your vehicle is damaged, the Damage Cost can be defined.
Damage Delivery Definitions: It is possible to define the photos of the documents that need to be collected, such as the accident report of the damaged vehicle, the crime scene images.
Basic Components: You can add records to your vehicle rental details through the applications you have marked.

Connection Settings: You can mark the applications you want to associate with the task log.
E.g; By adding the customers application, you can keep the information for which customer the task will be performed.
Parameters: If you wish, you can keep your records under certain headings by adding new parameters. Parameter Name, Keyword, Sequence and Data Type should be added while adding parameters. While adding a data type, a single line of information can be kept, or it can be added as a checkbox or multiple choice.
Rental Sources: You can add the source from which you rent a vehicle. There may be records coming from the website, or if there are contracted agencies, they can be added as well.
Authorized users: Users who are authorized to access the application are listed. You can add/remove authorizations for users.