Rental Processes
Started: This is the menu that includes the started Vehicle rental processes. You must use one of the processes created while renting your vehicles. The sample rental process is attached with the relevant image.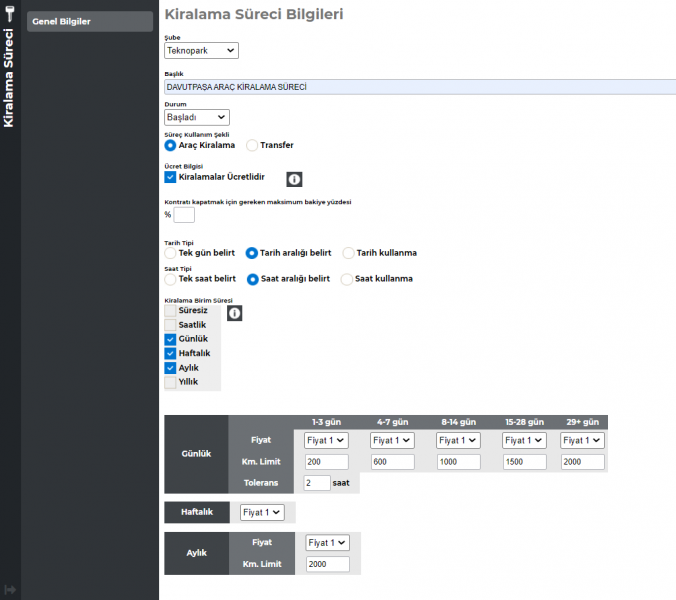 Before the Vehicle is rented, you must configure the settings of the rental process you have started. You can add a specific section from the general settings, select a discount from the discount settings, add a definition from the phase definitions to use in the process, use automatic numbering and enter the prefix and incremental number to automatically increase each new record.

All Vehicles: You can view all your vehicles that are idle, not in use and rented.
Open Contracts: Your opened contracts are shown. If your contract line is red, it means that your vehicle has exceeded the return time, and if it is yellow, it means that the return time is approaching. It is also possible to export all your contracts with Excel in the structure you want.
It is possible to add new contracts from all vehicles and open contracts menus. When adding a new contract, customer, vehicle information and planned return dates must be entered. Pricing will come automatically.
Closed Contracts: Closed contracts records are listed. Under the closed contracts title, it is also possible to examine according to customers, companies, vehicles, stations and sales representatives in this process.
Risk Management: You can assign your rented customers according to the status and debt types you have defined in the Vehicle rental settings beforehand. In this way, you can view the risk status when creating a new contract.
Credit Management: You can add in cases where the customer is a creditor. For example, your customer rented your Vehicle for 3 days and paid while buying it, but used it for 2 days. This record can be added to the contract as a credit.

Analytics:
Open RA Summary Analysis: It brings the credit information from the open contracts according to their phases.
Open RA Current Accounts: It shows the customer currents of the contracts that are open.
Rental Sources: Current information collected from separate sources. Dates can be filtered from the top of the page.
Empty Vehicles: Lists all your active or passive vehicles that are idle.
Basic Components: You can add records to your Vehicle rental details through the applications you have marked.
E.g; If the payments application is attached, payment related to the rental registration can be received, or if the documents application is attached, you can add a document.